Natural Indigo + 100% Local Organic Cotton
Martha Stewart Certified "Good Things"
Joy of natural indigo shibori kit
Cozy relaxing AND HYPOALLERGENIC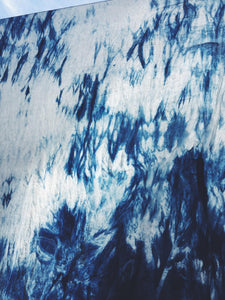 THE STORY
TJ Indigo Clothing Co. was founded in 2015 with the goal of offering environmentally conscious, artisan clothing and accessories, ethically and sustainably crafted in Toronto using natural materials and natural indigo dye. Our Indigo shibori process is rooted in ancient Japan, where the Samurai wore indigo-dyed fabrics to help keep bacteria from wounds. Plant based indigo produces a beautiful range of blues and is antibacterial and odour and dirt repellent. 
EVERY DAY MADE WELL
"I've received my order and they are gorgeous!! The colours are more vibrant than pics and the craftsmanship is brilliant." -Trish.
"I absolutely love this dress. A real one of a kind." -Fiona.
"Is it strange to say I could see myself wearing this for the rest of my life? I think it's timeless. It is beautifully crafted and incredibly comfortable, and there is a bonus of having deep pockets." -Cora.